How It Began

Late one night on a whim, and simply with a desire to create something, I sat down with an X-acto knife, a glue stick, some construction paper and my scanner and Panda Panda was born.

From May 2007 until April 2008 I published a new page on a daily or weekly schedule to www.drunkduck.com and in July of 2007 Panda Panda was highlighted as a featured comic on the site.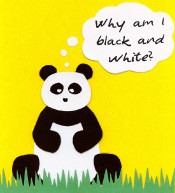 Original Webcomic

To read the original first chapter of the Panda Panda webcomic in its entirety, entitled "Why am I black and white?", you can access the PDF here.
The Future of Panda Panda

Panda Panda is currently being resurrected and recreated digitally using the original papercraft pages as a blueprint with the end goal of being published as a children's book.

I have many exciting ideas on where to take Panda Panda, and I look forward to sharing them all with the world!